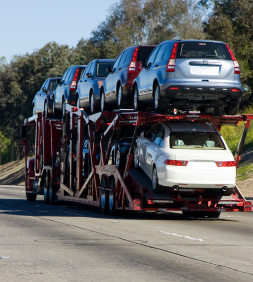 Moving your cars across Canada
We handle moves for a large number of business clients, from dealers and rental agencies to corporations moving small fleets. We're also experts in helping military personnel move from base to base. No matter your company's moving needs or destination, we can get your vehicles there.
We put the same care and service commitment into handling our corporate clients' cars as we do our individual customers' cars. We're committed to moving cars from coast to coast safely, securely and efficiently.
Vehicle transportation services for businesses
We offer the following services to help organizations get their cars where they're needed, be it from province to province or coast to coast:
If you have another moving challenge that you don't see listed, don't hesitate to contact us for help with your corporate vehicle moving needs. With our depth of experience and the resources at our disposal, there are very few vehicle transportation requirements that we haven't seen!
Canada's choice for vehicle transportation
Backed by Canada's largest customs broker and supported by our nationwide infrastructure, we make transporting your vehicles cost-effective and worry-free.
Experience – We've been in the vehicle transportation business for 30 years, moving cars across Canada for clients large and small.
Trust – We've moved thousands of cars for corporate clients including many large automobile manufacturers. Whatever your challenge is, we've got the solution to fit your needs.
Quality people – We hire experienced operators and augment that experience with rigorous training. Our expert staff knows how to handle cars and trucks of all makes and models.
Security – The safety and security of your vehicles is our top priority, and we're prepared for any eventuality. Any vehicle you move with us is insured from pick-up right through to delivery.