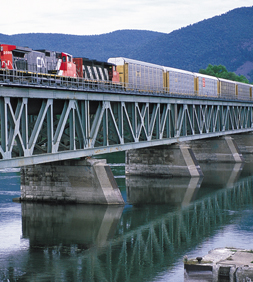 Moving your car across Canada
We know that moving cross-country can be a stressful experience, even before you start thinking about how you're going to move your car.
Livingston can help. We offer true end-to-end vehicle transportation services, from any part of Canada to another. Whether you're moving from Vancouver to Toronto or from Halifax to Edmonton, we have the people and the infrastructure in place to help.
How easy is it to move a car across Canada?
We make moving your car across Canada a simple, straightforward process:
We pick up your car, or you can drop it off at one of our secure facilities.
We inspect it thoroughly, so you get it back exactly the same way you left it with us.
Our expert operators load it onto a CN railcar specifically designed for cross-country vehicle transport.
When your vehicle arrives, we notify you to arrange for a pick-up or schedule a delivery.
Visit the What we do page to see a more detailed summary of how a cross-country move works, and don't hesitate to contact us to learn more about vehicle transportation or to get a quote for moving your car today.
How much does it cost to move a car cross-country?
While a number of variables such as time and distance can impact the cost of cross-country moves, Livingston guarantees straightforward, no-nonsense quotes.
Furthermore, we offer safety and security unmatched in the business:
Livingston has been in the car transportation business for more than 30 years.
We're backed by Canada's largest customs broker.
We move well over 1,000 cars every week – for individuals, businesses and automobile manufacturers.
We have tried-and-true infrastructure, including secure compounds, experienced staff and our own trucks operated by professional drivers.
CN Rail has been our trusted partner for over two decades. Operators of the largest and most efficient rail network in Canada and the only transcontinental network in North America, CN has been moving goods across the country since 1918 and serves all the major Canadian markets.
We understand the value of your car. Visit our Resource centre to find out more about moving your car anywhere in Canada, or contact us to get a detailed quote for moving your vehicle.
No matter what kind of car you have, it's one of a kind to us
Our network of secure compounds, fleet of Livingston trucks and expert operators – not to mention our role as the exclusive vehicle shipping partner for CN rail – is in place, ready to move your car across Canada safely, securely and efficiently.
Experience – Backed up by Canada's largest customs broker, we've been helping Canadians get their cars across the country since 1982.
Trust – We're the trusted carrier for some of the largest vehicle manufacturers in the world, as well as the Department of National Defence and several major van lines in Canada.
Quality people – From experienced staff to critical training initiatives, we take pride in ensuring that every Livingston employee knows the right way to handle your car.
Security – From top to bottom, we're committed to helping Canadians get their cars to their new homes safely and securely. We take full responsibility for the movement of your vehicle and pass the buck to no one.