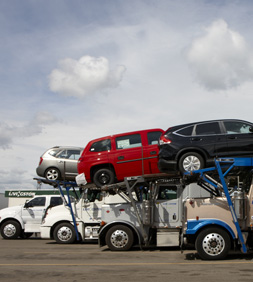 Moving your fleet across Canada
Need to get a bunch of cars or specialized vehicles to a specific location? Whether it's delivering a load of new cars for sale in Saskatoon or getting special surveying vehicles to Fort McMurray, we can help.
Moving your fleet via our extensive network can help you save on fuel costs, time and resources. A true end-to-end provider, Livingston has the personnel, trucks, rail partners and secure facilities in place to make your fleet move as easy as 1-2-3.
Even if you have a specialized fleet, we can help arrange efficient and cost-effective moves for cars and trucks of all sizes, ensuring they reach their destinations safely and securely.
Vehicle transportation services for fleets
No matter the size and scope of your vehicle transportation needs, we can help.
Small fleet moves – We've got the secure facilities, trucks and rail partner relationships in place, ready to move your cars quickly and efficiently.
Large fleet moves – We help some of the most well-known automobile manufacturers get their cars to their dealer networks, and we can get your large fleets moving as well.
Special vehicle moves – Not sure how to get your trucks across the country? We can help you determine the most efficient and cost-effective way to get them on the move.
Organizing your fleet move can be a challenging task. We're here to help. Contact us directly for more information on moving your fleet across Canada, or get a quote for moving your fleet today.
Your vehicles; our responsibility
Whatever the size of your fleet, we can help you get it where it needs to be.
Experience – We've been in the car transportation business for over 30 years, and we're backed up by Canada's largest customs broker. We know how to get things from A to B safely and securely.
Trust – We move thousands of cars across Canada every year for businesses and individuals.
Quality people – We're a true bricks-and-mortar operation – we've got experienced staff, our own trucks and operators, and secure compounds.
Security – From pick-up to drop-off, we are fully insured every step of the way.