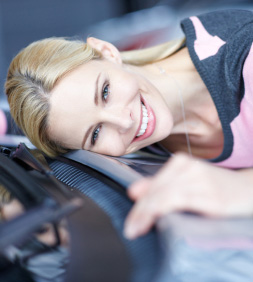 Moving your car from city to city
Even if you're not moving your car across the country, moving within a province or to a provincial neighbour can be a long haul. And after weeks of packing, do you want to sit in your car for seven hours (Calgary to Saskatoon), nine hours (Quebec City to Moncton) or 18 hours (Toronto to Thunder Bay)?
We offer true end-to-end vehicle transportation services, from town to town or province to province.
How do you ship your car regionally?
It might seem like a hassle, but we make moving your car a simple, straightforward process:
Hand-off – Choose whatever's easier for you. We'll pick up your car, or you can drop it off.
Inspection – Our thorough inspection process ensures your car gets back to you in exactly the same condition as when you left it with us.
Move – Our professional operators load it onto one of our car-carriers, fasten it securely to the hydraulic decks and get on the road.
Return – We notify you to arrange a pick-up or delivery, and your car is back in your hands.
Visit the What we do page to see a more detailed summary of our car moving services. If you have any questions or concerns about short-distance vehicle moves, contact us any time; or if you're ready to get a quote for moving your car, fill out our online form.
What's the cost of shipping a car?
A lot goes into moving your car, even across a short distance. We can easily provide you with a cost-effective solution to get from A to B.
Here's what to consider when you're ready to make the move:
The right infrastructure – Don't trust your car to a small operation located in a strip mall; our Canada-wide operation has real facilities and secure compounds located next to CN Rail yards across the country.
The right people – We're a business, but we're not just out to make a quick buck. We love cars as much as you do, and we take pride in helping Canadians get their cars to their new homes.
The right network – We don't take your cheque and then give your car to the nearest broker available. We've got fully trained personnel, our own trucks and operators, and a trusted nationwide partner in CN Rail.
Visit our Resource centre to learn more about what to look for in a vehicle transportation quote, or contact us for more information on moving your car today.
No matter what kind of car you have, it's one of a kind to us
Our network of secure compounds, fleet of Livingston trucks and expert operators is in place, ready to help get your car where you need it to be.
Experience – We've been in the vehicle transportation business for over 30 years, and we're backed up by Canada's largest customs broker. We know how to get things from A to B safely and securely.
Trust – Every hour, Livingston is moving cars for a multitude of clients throughout Canada, across short and long distances.
Quality people – We're a true bricks-and-mortar operation – we've got experienced staff, our own trucks and operators, and secure compounds. We never give your car to anyone we don't know and trust.
Security – Livingston is fully insured every step of the way, and we take every measure to make moving your car as worry-free as possible.