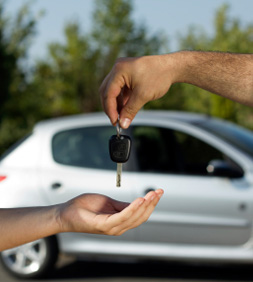 The best choice for moving your car in Canada
We move cars, plain and simple. Whether you're going from Calgary to Kamloops or from Saskatoon to Sudbury, Livingston has the tools, resources and people ready to make your move as easy and cost-effective as possible.
Read on to learn more about the steps we take in moving your car safely and securely, or contact us today to get a quote to move your car – and get your move underway!
What we do before moving your car
A detailed pre-move survey – First, we complete a report of your vehicle's condition. One of our qualified surveyors will complete a detailed inspection of your car, making sure both you and our staff are aware of any existing nicks or dents.
Optional vehicle pick-up service – We can arrange to pick up your vehicle – from work or home, whatever is most convenient for you. Your vehicle will be carefully driven onto a flatbed tow truck and transported to one of our secure facilities. Alternatively, you can drop it off at one of our facilities, conveniently located near major centres across Canada.
How we move your car
Loading your car for the move – When your vehicle arrives at the rail terminal, it will be driven up a specially designed ramp onto a CN railcar by one of our fully trained operators. The ramps and railcars are specifically designed to transport automobiles and prevent damage during the loading and off-loading process.
Securing your car for transport – After your vehicle is loaded, it will be securely fastened to the railcar deck with a specialized chocking system that allows your vehicle to ride freely on its own suspension. The secure and enclosed railcars protect your vehicle from the elements and minimize the chance of damage.
Transporting your vehicle – Your vehicle is then shipped to the destination terminal over CN's rail network. CN's Electronic Data Interchange (EDI) updates and tracing systems help to provide the necessary visibility to ensure reliable, efficient transport. We are able to track your vehicle during transit, giving you peace of mind.
Short-distance vehicle moves – For shorter moves, your car will be securely loaded onto a Livingston car-carrier specially designed for vehicle transport, driven by one of our experienced drivers.
Delivering your car after the move
Unloading your car – At the destination terminal, your vehicle is carefully driven down the ramp and placed in our secure compound. You will then be promptly notified that your vehicle has arrived and is ready for pick-up or delivery.
Post-move vehicle delivery – If you need to have your car delivered, it will be carefully driven onto a flatbed tow truck and delivered right to your door. Alternatively, you can come and pick it up at our local facility.
No matter what kind of car you have, it's one of a kind to us
From origin to destination, we take care of your car every step of the way, making sure it's returned to you in exactly the same condition as when you left it with us.
Experience – We move thousands of cars every month, and we've been doing so for three decades.
Trust – From individuals to large businesses, including several major automobile manufacturers, we help Canadians get their cars where they need to be.
Quality people – You expect the best people to handle your car, and that's exactly who we employ.
Security – You can rest assured knowing that your vehicle is insured from pick-up right through to delivery.