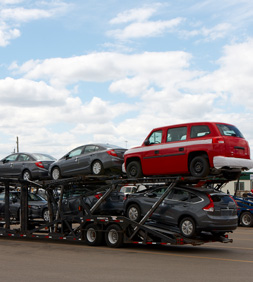 Moving cars from base to base
Moves from base to base are a fact of life for Canada's armed forces personnel – and the sheer size of Canada can mean for a long haul. Livingston's here to help.
We've been helping military personnel get their cars to their new bases for more than two decades. Navy, Army or Air Force, we can help make sure your car arrives at your new post efficiently and cost-effectively.
Military vehicle transportation services from the experts
We help military personnel move their cars stress-free, so they can stay focused on what really matters – defending and supporting our country.
Our size and experience stand alone in the vehicle transportation business. No matter where you're headed – from Borden, ON to Victoria, BC or from Halifax, NS to Edmonton, AB – we've got a safe, secure, cost-effective and efficient solution for moving your car, and we'll take good care of it every step of the way.
Use our secure online form to get a quote for moving your car, or visit our Resource centre to learn more about what to look for in a vehicle transportation service provider.
No matter what kind of car you have, it's one of a kind to us
Whatever kind of car you have and wherever your new post is, we can help you get your car there.
Experience – We've been in the car transportation business for over 30 years, and we're backed up by Canada's largest customs broker. We know how to get things from A to B safely and securely.
Trust – We're a trusted carrier for the Department of National Defence and major van lines across Canada.
Quality people – We're a true bricks-and-mortar operation – we've got experienced staff, our own trucks and operators, and secure compounds Canada-wide. We never give your car to anyone we don't know and trust.
Security – We take pride in returning your car to you in exactly the same condition as when you left it with us. We'll take care of you and your car, every step of the way.